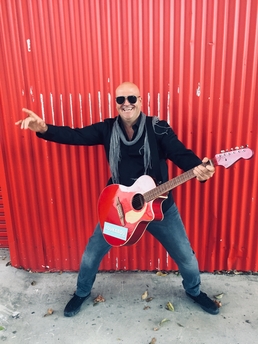 ****************************
Boukabou Bio
Boukabou was born and bred in Sydney. He is a seasoned showman / vocalist / guitarist.
Now, at 45, he has sang and played in bands and solo all over the world since high school.
Currently Boukabou does mostly Vocal Acoustic Classic Hits (also duo and bands) anywhere in Australia.
****************************
Boukabou Cover Show
Style: Classic Hit Vocal Acoustic Covers (with backing track option) with requests.
Covers set (usually 3-4 hours: 3 sets with 2 breaks),
Depending on show, performance and set list is adjusted to best suit audience.
Sound and lighting equipment provided to suit small venue to large room.
****************************
Sample List of Cover Songs
Cherry Cherry - Niel Diamond
My Life - Billy Joel
I'm Yours - Jason Mraz
Brown Eyed Girl - Van Morrison
I Won't Back Down - Tom Petty
Somebody Told Me - The Killers
Listen to The Music - The Doobee Brothers
Fire and Rain - James Taylor
Riptide - Vance Joy
Twist and Shout - The Beatles
Flame Trees - Cold Chisel
Easy - The Commodores
Tainted Love - Soft Cell
Wonderwall - Oasis
Let's Stick Together - Roxy Music
My Way - Frank Sinatra
Jet Airliner - Steve Miller
Hurts So Good - John Mellancamp
Never Tear Us Apart - INXS
Somewhere Over The Rainbow - Judy Garland
Jessie's Girl - Rick Springfield
****************************
The Boukabou Story So Far

Boukabou has released several albums, ep's and performed in Australia and The US frequently throughout his career.
Boukabou regularly performs and records with musicians such as Dario Bortolin (Bee Gees, Jimmy Barnes); Paul Wheeler (Icehouse, Sneaky Sound System); Warren Trout (Colin Hay from Men at Work, The Voice) and Andy Cichon (Darryl Braithwaite, Shania Twain and Billy Joel).
His most popular show is vocal acoustic classic hit covers (with backing track option). He also takes requests with a song list including 100's of songs.
Boukabou always will cater and adjust to suit the mood and audience at every cover show he does.
Boukabou also has original show. He released an album recorded at Albert's Recording Studios, Sydney 2017.
'Not only will you get an outstanding show but you'll feel like part of the gang - he's just that kinda guy.'
****************************
Boukabou Original Show
Usually 45mins includes most of new LP, recorded at Albert's Sydney released in 2016 titled "Human 1.0" Style: Rock (see original page on www.Boukabou.com )
****************************
below - previous 2019 shows
(for history see archive page)
THIS PAGE : LIVE CLASSIC AND CURRENT HIT SHOWS - SOLO - DUO - BAND -
(PAGE LINKS ABOVE FOR ORIGINAL RELEASES, CONTACT FORM AND ARCHIVES)
- p +61-466-984-938 -
below: request list for shows.
send request with show venue and date in submission form >
1 3AM - MATCHBOX 20
2 500 MILES - THE PROCLAIMERS
3 ABRACADABRA - STEVE MILLER BAND
4 ADDICTED TO LOVE - ROBERT PALMER
5 AFRICA - TOTO
6 All I NEED IS A MIRACLE - MIKE AND THE MECHANICS
7 ALL OF MY LOVE - LED ZEPPELIN
8 ALL THE SMALL THINGS - BLINK 182
9 ALL YOU NEED IS LOVE - THE BEATLES
10 ALONE WITH YOU - THE SUNNYBOYS
11 AMERICAN BAND - GRAND FUNK RAILROAD
12 AMERICAN PIE - JOHN MCLEAN
13 ANGELS - ROBBIE WILLIAMS
14 ANOTHER BRICK IN THE WALL - PINK FLOYD
15 APRIL SUN IN CUBA - DRAGON
16 BABY COME BACK - PATO BANTAM
16 BABY I LOVE YOUR WAY - PETER FRAMPTON
17 BACK FOR GOOD - TAKE THAT
18 BAD MON RISING - CREDENCE CLEARWATER REVIVAL
19 BAKER STREET - JERRY RAFFERTY
20 BARBARA ANN - THE BEACH BOYS
21 BEAST OF BURDERN - ROLLING STONES
22 BETTER BE HOME SOON - CROWDED HOUSE
23 BETTER MAN - PEARL JAM
24 BILLY JEAN - MICHAEL JACKSON
25 BIRTHDAY - THE BEATLES
26 BITTER TEARS - INXS
27 BLACK VELVET - ALANNAH MYLES
28 BLAZE OF GLORY - JOHN BON JOVI
29 BOYS DON'T CRY - THE CURE
30 BOYS OF SUMMER - DON HENLEY
31 BREAK ON THROUGH - THE DOORS
32 BROKEN WINGS - MR MR
33 BROWN EYED GIRL - VAN MORRISON
34 BURNIN LOVE - ELVIS
35 BY THE WAY - RED HOT CHILLI PEPPERS
36 CALIFORNIA GIRLS - THE BEACH BOYS
37 CAN I COME TOO ? - MENTAL AS ANYTHING
38 CAN'T HELP FALLING IN LOVE WITH YOU - ELVIS
39 CAN'T TAKE MY EYES OFF OF YOU - FRANKIE VALLEY
40 CANDLE IN THE WIND - ELTON JOHN
41 CANDY CANDY - IGGY POP
42 CARELESS WHISPER - GEORGE MICHAEL
43 CATS IN THE CRADLE - HARRY CHAPAN
44 CC RIDER - ELVIS
45 CENTERFOLD - G.JILES BAND
47 CHARLMESS MAN - BLUR
48 CHEAP WINE - COLD CHISEL
49 CHECK IT OUT - MELLANCAMP
50 CHERRY, CHERRY - NIEL DIAMOND
51 CHINA GIRL - DAVID BOWIE
52 COME AS YOU ARE - NIRVANA
53 COMIN HOME - THE RADIATORS
54 COOL WORLD - MONDO ROCK
55 CRACKLIN' ROSIE - NIEL DIAMOND
56 CRAZY - ICEHOUSE
57 CRAZY LITTLE THING CALLED LOVE - QUEEN
58 CROCODILE ROCK - ELTON JOHN
59 CRUNCHY GRANOLA SUITE - NIEL DIAMOND
308 DANCING IN THE DARK - BRUCE SPRINGSTEEN
60 DANIEL - ELTON JOHN
61 DEAD OR ALIVE - BON JOVI
62 DIRTY OLD TOWN - THE POGUES
63 DISCOTEQUE - U2
64 DISTANT SUN - CROWDED HOUSE
65 DO YA THINK I'M SEXY - ROD STEWART
66 DO YOU BELIEVE IN SHAME ? - DURAN DURAN
67 DON'T BE CRUEL - ELVIS
68 DON'T CHANGE - INXS
69 DON'T LOOK BACK IN ANGER - OASIS
70 DON'T STOP BELIEVING - JOURNEY
71 DON'T YOU FORGET ABOUT ME - SIMPLE MINDS
72 DOWN AMOUNG THE DEAD MEN - FLASH IN THE PAN
73 DOWN UNDER - MEN AT WORK
74 DOWNEASTER ALEXA - BILLY JOEL
75 DOWNHEARTED - AUSTRALIAN CRAWL
76 EAGLE ROCK - DADDY COOL
77 EASY - THE COMMODORES
78 ENTER SANDMAN - METALLICA
79 ERROL - AUSTRALIAN CRAWL
80 EVERY BREATH YOU TAKE - THE POLICE
81 EVERYBODY WANT'S TO RULE THE WORLD - TEARS FOR FEARS
82 EVERYONE'S A WINNER - HOT CHOCOLATE
83 EYE OF THE TIGER - SURVIVOR
84 FAITH - GEORGE MICHAEL
85 FALSOM PRISION BLUES - JOHNNY CASH
86 FATHER TO SON - CAT STEVENS
87 FIRE AND RAIN - JAMES TAYLOR
88 FLAME TREES - COLD CHISEL
89 FLY AWAY - LENNY KRAVITZ
90 FREE FALLING - TOM PETTY
91 FUN, FUN, FUN, - THE BEACH BOYS
92 GET IT ON - T REX
93 GET YOUR LOVE RIGHT - JON ENGLISH
94 GIRLS ON FILM - DURAN DURAN
95 GIVE IT UP - KC AND THE SUNSHINE BAND
96 GIVE ME ALL YOUR LOVING - ZZ TOP
97 GLORIA - LAURA BRANNIGAN
98 GLORY DAYS - BRUCE SPRINGSTEEN
99 HALLELUJAH - LENARD COHEN
100 HAPPY TOGETHER - THE TURTLES
101 HEROES - DAVID BOWIE
102 HEY ST PETER - FLASH IN THE PAN
103 HOLY GRAIL - HUNTERS AND COLLECTORS
104 HOME AMOUNG THE GUM TREES - JOHN WILLIAMSON
105 HORSES - DARRYL BRAITHWAITE
106 HOT IN THE CITY - BILLY IDOL
107 HOTEL CALIFORNIA - THE EAGLES
108 HOW DEEP IS YOUR LOVE - THE BEACH BOYS
109 HUNGRY LIKE THE WOLF - DURAN DURAN
302 HUNGRY LIKE THE WOLF - DURAN DURAN
110 HURRICANE - BOB DYLAN
111 HURTS SO GOOD - JOHN MELLANCAMP
112 HYSTERIA - DEF LEPPARD
113 I AM I SAID - NIEL DIAMOND
114 I CAN'T DANCE - PHIL COLLINS
115 I COULD BE SO GOOD FOR YOU - DENNIS WATERMAN
116 I GOT FRIENDS - GARTH BROOKS
117 I HEARD IT THROUGH THE GRAPEVINE - GLADYS KNIGHT AND THE PIPS
118 I RAN - FLOCK OF SEAGULLS
119 I STILL CALL AUSTRALIA HOME - PETER ALLEN
120 I WANT TO BREAK FREE - QUEEN
121 I WANT TO DANCE WITH SOMEBODY - WHITNEY HOUSTON
122 I WANT TO KNOW WHAT LOVE IS - FOREIGNER
123 I WANT TO TAKE YOU HIGHER - SLY AND THE FAMILY STONE
124 I WANT YOU TO KNOW - BACKSTREET BOYS
125 I WAS ONLY 19 - REDGUM
126 I WON'T BACK DOWN - TOM PETTY
127 I'M NOT ON LOVE - 10CC
128 I'M YOURS - JASON MRAZ
129 IMAGINE - JOHN LENNON
130 IN THE GHETTO - ELVIS
131 IS THIS LOVE - BOB MARLEY
132 IT'S FIVE O'CLOCK SOMEWHERE - ALAN JACKSON
133 IT'S MY LIFE - BON JOVI
134 IT'S NOT UNUSUAL - TOM JONES
135 JEALOUS GUY - JOHN LENNON
136 JESSIE'S GIRL - RICK SPRINGFIELS
137 JET AIRLINER - STEVE MILLER BAND
138 JIVE TALKIN' - BEE GEES
139 JOHNNY B.GOODE - CHUCK BERRY
140 JUST WHAT I NEEDED - THE CARS
305 KEEP ON LOVIN YOU - REO SPEEDWAGON
141 KEEP ON ROCKIN ME - STEVE MILLER
143 KHE SAHN - COLD CHISEL
144 KISS - PRINCE
145 KOKOMO - THE BEACH BOYS
146 L.A WOMAN - THE DOORS
147 LAID - JAMES
148 LAST CHRISTMAS - GEORGE MICHAEL
149 LET IT BE - THE BEATLES
150 LET YOUR LOVE FLOW - BELLAQMY BROTHERS
151 LET'S DANCE - DAVID BOWIE
152 LET'S STICK TOGETHER - ROXY MUSIC
153 LIKE A ROLLING STONE - BOB DYLAN
154 LISTEN LIKE THIEVES - INXS
155 LISTEN TO THE MUSIC - DOOBIE BROTHERS
156 LIVE FOREVER - OASIS
157 LIVIN ON A PRAYER - BON JOVI
158 LIVING YEARS - MIKE AND THE MECHANICS
159 LONESOME LOOSER - LITTLE RIVER BAND
160 LONG WAY TO THE TOP - AC / DC
162 LOSE YOUR LOVE - THE OUTFIELD
163 LOSING MY RELIGION - REM
164 LUCKY MAN - THE VERVE
165 LUST FOR LIFE - IGGY POP
166 MAGGIE MAY - ROD STEWART
167 MAJIC CARPET RIDE - STEPPENWOLF
168 MALIBU - HOLE
169 MARGARITAVILLE - JIMMY BUFFET
170 MEXICAN RADIO - WALL OF VOODOO
171 MODERN LOVE - DAVID BOWIE
172 MOMMA MIA - ABBA
173 MORE THAN THIS - BRYAN FERRY
174 MRS ROBINSON - SIMON AND GARFUNCKEL
175 MY GIRL - BOUKABOU
176 MY HAPPINESS - POWDERFINGER
177 MY LIFE - BON JOVI
178 MY WAY - FRANK SINATRA
179 MYSTIFY - INXS
180 NEVER TEAR US APART - INXS
181 NEW MOON ON MONDAY - DURAN DURAN
182 NIGHT MOVES - BOB SEGER
183 NOBODY TOLD ME - JOHN LENNON
184 NOTHING ELSE MATTERS - METALLICA
185 OH NO NOT YOU AGAIN - AUSTRALIAN CRAWL
186 OH WHAT A NIGHT - FRANKIE VALLEY AND THE FOUR SEASONS
187 OH YEAH - ROXY MUSIC
188 OLD MAN - NIEL YOUNG
189 ON THE ROAD AGAIN - WILLIE NELSON
190 ONE - U2
191 ONLY WANT TO BE WITH YOU - HOOTIE AND THE BLOWFISH
192 ORDINARY WORLD - DURAN DURAN
193 OVER YOU - ROXY MUSIC
194 OVERKILL - MEN AT WORK
195 PAITENCE - GUNS 'N ROSES
196 PIANO MAN - BILLY JOEL
197 PINA COLADA (ESCAPE) - RUPERT HOLMES
198 PLANET EARTH - DURAN DURAN
199 PLEASE DON'T GO - CC AND THE SUNSHINE BAND
200 POKE SALAD ANNIE - TONY JOE WHITE
201 PRETTY VACANT - SEX PISTOLS
202 PRICE OF LOVE - BRYAN FERRY
203 PRIDE - U2
204 PROUD MARY - CREEDENCE CLEARWATER REVIVAL
205 PSYCO KILLER - TALKING HEADS
206 PUB WITH NO BEER - SLIM DUSTY
207 PUMP IT UP - ELVIS COSTELLO
208 R.O.C.K IN THE USA - JOHN MELLANCAMP
209 RAIN - CREEDENCE CLEARWATER REVIVAL
210 RASBERRY BERET - PRINCE
211 REAL WILD CHILD - IGGY POP
212 REBEL YELL - BILLY IDOL
213 RECKLESS - AUSTRALIAN CRAWL
214 RED RED WINE - UB40
215 REMEDY - THE BLACK CROWS
304 RHINESTONE COWBOY - GLEN CAMPBELL
216 RING OF FIRE - JOHNNY CASH
217 RIO - DURAN DURAN
303 RIPTIDE - VANCE JOY
218 ROCK THE CASBAH - THE CLASH
219 ROCKET MAN - ELTON JOHN
220 ROCKIN IN THE FREE WORLD - NIEL YOUNG
221 ROLLING IN THE DEEP - ADELE
222 RUN TO THE HILLS - IRON MAIDEN
223 RUNNIN' DOWN A DREAM - TOM PETTY
224 SAID I LOVED YOU BUT I LIED - MICHAEL BOLTON
225 SAILING - ROD STEWART
226 SANTA MONICA - EVERCLEAR
227 SATELITE OF LOVE - LOU REED
228 SCHOOL DAYS - CHUCK BERRY
229 SEX ON FIRE - KINGS OF LEON
230 SHAKE IT OFF - TAYLOR SWIFT
231 SHAKE IT UP - THE CARS
232 SHAKE YOUR BOOTY - KC AND THE SUNSHINE BAND
233 SHIP OF FOOLS - WORLD PARTY
234 SHOULD I STAY OR SHOULD I GO - THE CLASH
235 SHOUT - TEARS FOR FEARS
236 SITTING ON THE DOCK OF THE BAY - OTIS REDDING
237 SLICE OF HEAVEN - DAVE DOBBYN
238 SLOOP JOHN B - BEACH BOYS
239 SMALL TOWN - JOHN MELLANCAMP
240 SO BEAUTIFUL - PETE MURRAY
241 SO FAR AWAY FROM ME - DIRE STRAIGHTS
242 SOME LIKE IT HOT - ROBERT PALMER
243 SOMEBODY TOLD ME - THE KILLERS
244 SOMEWHERE OVER THE RAINBOW - JUDY GARLAND
245 SONG 2 - BLUR
246 SORROW - DAVID BOWIE
247 SPACE ODDITY - DAVID BOWIE
248 STAIRWAY TO HEAVEN - LED ZEPPELIN
249 STAND - REM
250 START ME UP - THE ROLLING STONES
251 STAYIN' ALIVE - THE BEACH BOYS
252 STUCK IN THE MIDDLE WITH YOU - STEALERS WHEEL
253 SUMMER OF 69 - BRYAN ADAMS
254 SUSPICOUS MINDS - ELVIS
255 SWEET CAROLINE - NIEL DIAMOND
256 SWEET CHILD O'MINE - GUNS 'N ROSES
257 TAINTED LOVE - SOFT CELL
258 TAKE A LONG LINE - THE ANGELS
259 TAKE IT EASY - THE EAGLES
260 TAKE ME HOME COUNTRY ROADS - JOHN DENVER
261 TAKE ON ME - AHA
262 TAKE THE MONEY AND RUN - STEVE MILLER
263 TAKING CARE OF BUSINESS - BACHMAN - TURNER OVERDRIVE
264 TALKING IN YOUR SLEEP - THE ROMANTICS
265 TEENAGE DIRTBAG - WHEATUS
266 THANK YOU - LED ZEPPELIN
267 THE GAMBLER - KENNY RODGERS
268 THE WAITING - TOM PETTY
269 TIMES LIKE THESE - THE FOO FIGHTERS
270 TO HER DOOR - PAUL KELLY
271 TRUE - SPANDAU BALLET
272 TRUE BLUE - JOHN WILLIAMSON
273 TURN THE PAGE - BOB SEGER
274 TWIST AND SHOUT - THE BEATLES
275 UNCHAIN MY HEART - JOE COCKER
276 UNDER THE BRIDGE - RED HOT CHILLI PEPPERS
277 VERTIGO - U2
278 VIRGINIA PLAIN - ROXY MUSIC
279 WAITING FOR A GIRL LIKE YOU - FOREIGNER
280 WALTZING MATILDA - SLIM DUSTY
281 WE CAN GET TOGETHER - ICEHOUSE
282 WHAT I LIKE ABOUT YOU - THE ROMANTICS
283 WHAT'S UP - 4 NON BLONDES
284 WHEN A MAN LOVES A WOMAN - PERCY SLEDGE
285 WHEN I COME AROUND - GREEN DAY
286 WHITE WEDDING - BILLY IDOL
287 WISH YOU WERE HERE - PINK FLOYD
288 WITH OR WITHOUT YOU - U2
289 WOMAN - JOHN LENNON
290 WONDERFUL - ADAM ANT
291 WONDERWALL - OASIS
292 WORKING FOR THE WEEKEND - LOVERBOY
307 WORKING FOR THE WEEKEND - LOVERBOY
293 YOU AIN'T SEEN NOTHING YET - BACHMAN TURNER OVERDRIVE
294 YOU DON'T TREAT ME NO GOOD - SONIA DADA
295 YOU GOT IT - ROY ORBISON
296 YOU MAY BE RIGHT - BILLY JOEL
297 YOU SHOULD BE DANCING - BEE GEE'S
306 YOU TOOK THE WORDS RIGHT OUT OF MY MOUTH - MEATLOAF
298 YOU'RE BEAUTIFUL - JAMES BLUNT
299 YOU'RE THE VOICE - JOHN FARNHAM
300 YOUR SONG - ELTON JOHN
301 ZIGGY STARDUST - DAVID BOWIE